Ephemeral Artifacts: A Podcast On Paper
If you were to visit the New York Public Library, you would be able to investigate a treasure trove of nothing but menus dating back to the 1840s. Why compile this collection? Because it gives us an idea of what people were eating, how much they were paying, what ingredients were popular, how our habits and tastes have changed, and in general provide a completely unique perspective of the everyday lives of our ancestors. Ephemeral understands the point of this; it's a podcast concerned with what won't be saved for centuries in museums, the stuff that human beings make and create that aren't precious to us, yet paints a fascinating picture of what life was like in the time it was made. In addition to examining the detritus of culture and history left in flea markets and dumps around the world, the podcast also takes a look at some intentionally ephemeral endeavors; this episode, "Sketch + Puzzle," centers on the fleeting medium of paper.
Steven Peterman knows paper is temporal, but also knows that it's a great way to share stories and experiences with others. So he started the Sketchbook Project, soliciting sketchbooks from anyone who wants to participate, artist or not. Now, more than ten years later, "it's become like a time capsule," Steven says, with 41,000 books from over 100 countries living in the Brooklyn Art Library. "It's also been 12 years, so some of the books are becoming old, and showing wear. And unless the book is truly falling apart ... It happens, it's an organic process... But I think it's about this archive literally evolving, why would be put it in a plastic bag and keep it all perfect? It's all part of this living thing."
So why bother trying to preserve these paper products at all? "Our hope is that you look at this, literally their emails are in the back...you could connect with them, but also then maybe you're inspired, maybe you could create a book. Then you inspire someone else, and it creates this full circle experience," Steven says.
Matt Gaffney, crossword puzzle writer, is also aware of his chosen medium's temporary nature, saying, "I tend to view the crossword as art, [solvers] tend to view it as entertainment...just a way to pleasantly pass 12 minutes, and then they never have to think about it again."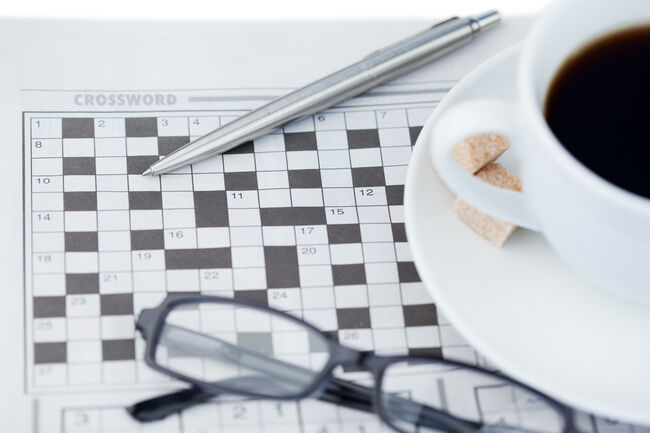 Crossword puzzles do enjoy some serious staying power: they've been a form of entertainment for over a hundred years. In the past, niche crosswords wouldn't be published due to their small audiences, but Matt points out that "Now, they can publish online, there's other crossword specific publications that cater to them, and they've built their own fan bases. So it's proven to be a flexible form of entertainment, and I would say it's certainly not decreasing in popularity, I would say it's actually going up."
But in part because crosswords evolve with language and culture, "you do have this nostalgic sense that life is fleeting," Matt reflects; "none of us are permanent."
Learn more about the Sketchbook Project and the people who submit, the life of a crossword writer, and how to create the perfect puzzle, in this episode of Ephemeral.
If you want to be sure you're listening to the podcasts everyone else is checking out, iHeartRadio has you covered. Every Monday, iHeartRadio releases a chart showing the most popular podcasts of the week. Stay up to date on what's trending by checking out the chart here. There's even a chart just for radio podcasts here, featuring all your favorite iHeartRadio personalities like Bobby Bones, Elvis Duran, Steve Harvey and dozens of others.
Photos: Getty Images